The last time I wore a pair of white shoes, they looked a little something like this (socks included). I was a little girl going to church with my grandma. I'm not a "white shoe" wearer. White shoes just don't appeal to me.
While doing some online shoe shopping, I stumbled upon this pair from Bakers called
Stinger
. I mentioned this shoe in this
post
 & contemplated buying them. They were originally $70 & I was NOT paying $70 for white shoes. I refused. Well, one day, they went on sale for $40 & I was like ok, what the heck. I had a $40 gift card & so all I had to pay out of pocket was shipping & taxes. Easy enough.
I got them in the mail about 2 weeks ago. When they first arrived, I wasnt even excited to open the box. Now normally when I get a shoe shipment, I'm overjoyed. I track the package & if its at the house (and I'm still at work), I'm almost tempted to get sick so that I can go home & open it! LOL. But in this case, I left the box unopened for about 4 days. Finally, I opened it & was shockingly surprised. They were TOO CUTE! I think the wooden platform helps the shoe out tremendously. Now I cant wait to wear them!!!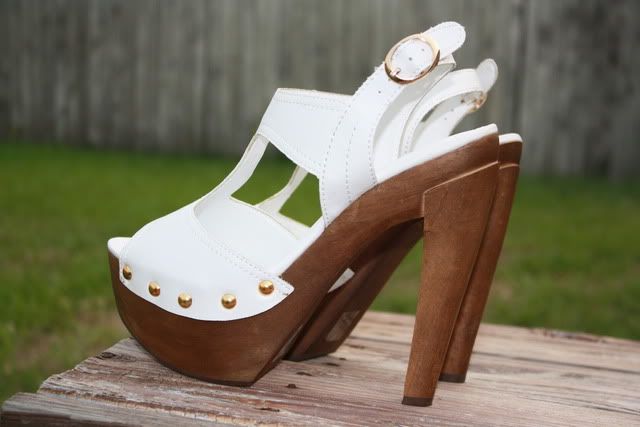 The white ones are now sold out, so maybe I'm not the only one who liked them!
Talk to you soon,