I would like to thank all of you for your participation in the CSN Stores giveaway. This was a great opportunity for Rush Our Fashion, and I hope to partner with them for another giveaway in the future.
However, there can only be one winner!!!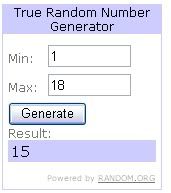 The lucky winner is Shannon over at
The Finer Things
. Congratulations!!! I'll be contacting you shortly with all of the prize info!