Its rare that you will you get to see me in "dressed down" shoes/boots. I don't own too many pairs. Frankly, they just don't mesh well with me, and I have trouble finding an outfit that works with them. I found these cute combat boots over at
Go Jane
, and decided to give them a try. I also purchased a similar pair in black. I really like them. They are extremely comfortable.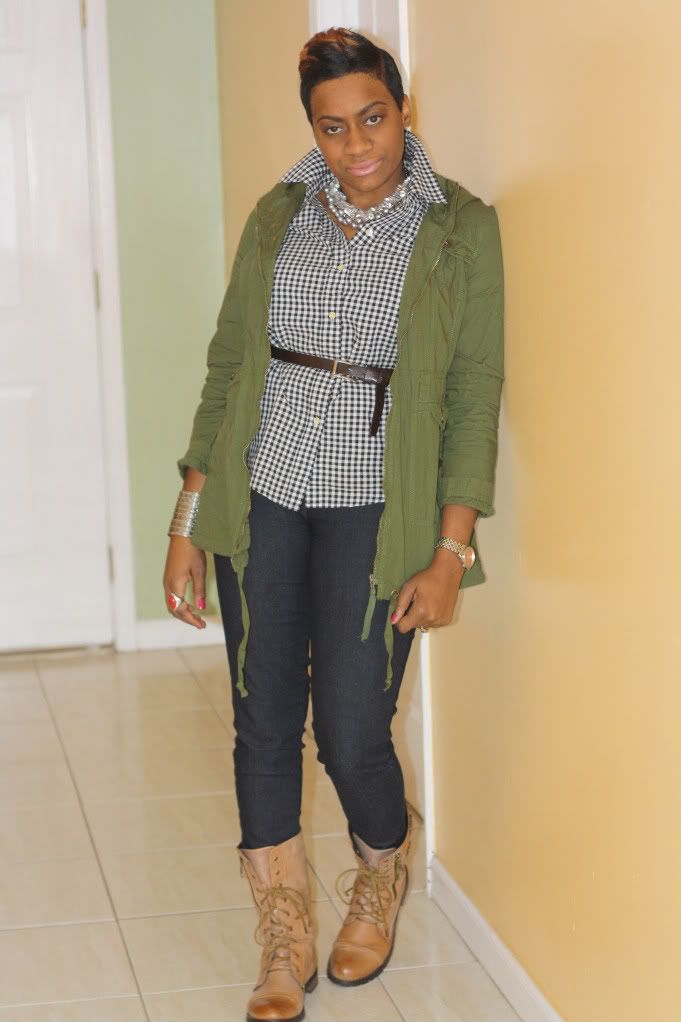 OK, now for my Fab Find of the day. My friend called me and told me that Charlotte Russe was having a REALLY good sale. Like, really good. She said they had an entire $5 section. You know I almost broke my neck trying to get off work & head to the mall. Well, I get there & they had JUST marked everything down at the store near me. I was one of the first people to browse the racks. One item I got was this cute little parka. I've been wanting one for a while, but never made it a priority to look for one.
Parka: Charlotte Russe, Jeans & Cuff: Forever21, Shirt & Belt: Thrifted, Boots: Go Jane, Necklace: Kohl's, Watch: Anne Klein
The temperature got a little colder outside, so I made a quick change into a sweater, t shirt, and my trusty leopard scarf to run some nightly errands.
I also just found out that I won this beautiful vintage necklace over at
Baby Budget's Blog
. Check her out. She wears the most awesome clothes & accessories, and she also has an online store, so you can
Shop Her Closet
!!!
Thanks for stopping by,